Power up your work with partner integrations and data feeds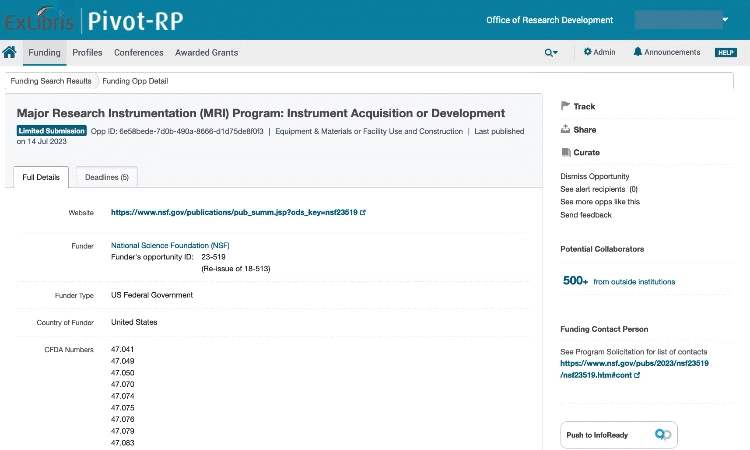 HIGHER ED RESEARCH DEVELOPMENT PARTNER
Transfer opportunity information instantly from Pivot-RP to InfoReady
For research administrators, InfoReady integrates seamlessly with Ex Libris Pivot-RP. The combination allows administrators to find funding opportunities, release calls, and collect proposals for review in a single, simple workflow.
Pivot-RP accelerates the research process by providing access to the most comprehensive global source of funding opportunities, facilitating collaborator discovery, and offering insights and short-cuts to help research organizations win a larger share of available funding.
Optimizing Your Limited Submission Process with Pivot-RP and InfoReady
Hear from leading research universities on how using Pivot-RP® and InfoReady™ together seamlessly optimizes their limited submission processes. Watch the recording to learn about real-world examples from multiple institutions about how this integration improves efficiency and productivity, increases faculty engagement to produce better proposals, and helps identify trends in limited submissions.
How U.S. universities can improve limited submissions processes
Rebecca Milczarek, Ph.D., Assistant Director, Office of Research Development at University of Illinois Chicago and Joshua Roney, Ph.D., Director, Research Development, at University of Central Florida, and Seema Freer, Ph.D., Director of Research Development at Temple University shared best practices for optimizing limited submission processes by using both Pivot-RP and InfoReady™.
Automate the flow of data into and out of InfoReady to optimize your efficiency.
When you use the power of InfoReady to streamline and automate the work of creating, collecting, routing, reviewing and tracking applications, you'll immediately see benefits.
Manually importing and exporting data to share between systems can be time-consuming, error-prone, and even cost-prohibitive.
An InfoReady Data Feed resolves these issues with an automated delivery of data customized to your specifications and schedule. Data Feeds can be incoming or outgoing or even both to create an easy automated process for your team to optimize the flow of data in and out of InfoReady.
When you are ready to create an inbound or outbound feed, the InfoReady product team will interview key stakeholders to determine the requirements. Your new data feed is tested thoroughly by both our quality assurance team and your institution, first in a sandbox environment and then live on your production system.
Inbound data feed
Pulling data into InfoReady can be automated to keep information current and readily available.
Common inbound data feeds include:
Pull data from your institution's email directory to provide quick look up of contact information for applicants and reviewers.
Pull in data from, HR systems, courses or campus life to keep opportunities and information up to date automatically.
Outbound data feeds
Push data from InfoReady to other platforms and databases to eliminate redundant work and reduce delays in data sharing.
Common uses of outbound data feeds include:
Outbound feed of competition details can be used to populate web pages to automatically keep opportunities up to date.
Share information directly into newsletters for quick distribution to students and faculty.
Outbound data feed of submitted applications can provide critical data for other systems like award decisions, funding amounts, and account numbers.
Export data

of submitted applications

to provide critical data for other systems like award decisions, funding amounts, and account numbers.
Read more about integrating InfoReady